SPS - Server Monitoring Tool v1.3 Free
---
Summary: The Server Monitoring Tool is a web based Server status tool. It is written with PHP and gives you at a glance statistics for many if your mission critical network servers. If you are in any kind of IT field this is a very useful tool. Check the connection status of all of your servers in seconds instead of waisting valuable time trying to figure out which server is down. The tool can be configured connect to any port and any IP address or Host name.
Devices The Can Be Monitored: This tool can be used to monitor any device that is accessible on a network, that has an open port used for it's network services. Example: Email Server (port 25, 110, or 143), Web Server (port 80, or 443), Internet Gateway Router (port 80, other open inbound port)
Added Features For This Version:
Easy to use Auto-Refresh feature - automatically refreshs the page and rechecks the status of your network devices
Email Alerting system that will notify you if any network device is un-reachable. Uses an SMTP Authentication Email Server.
Downloads:
sps_servermonv1-3_free.zip (Version: 1.3, Size: 4.03KB, Files: 3)
Screen Shots: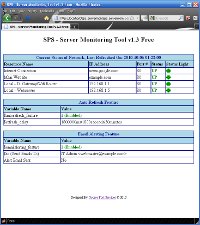 System Requirements: Web Server with PHP4 or PHP5 with PEAR installed, network connectivity to the devices you want to monitor.
Download XAMPP - A Free Open Source Webserver Apache, PHP, MySQL, File Server, Mail Server from Apache Friends. (Windows, Linux, Mac OS, Solaris)
Installation Instructions:
Download and Extract .ZIP archive file to a place on your webserver that meets the requirements above.
Use a standard text editor like Notepad/Wordpad for Windows or gedit for Linux to open the sps_servermonv1-3_free.php file.
Follow the instructions in the source code to change only the configuration settings and enable features you want.
Now browse to the sps_servermonv1-3_free.php page on your server and it should start showing you the results.
TIP: Before turning on additional features edit the $servers array to make sure all servers are up and reachable before enabling Email Alerting or Auto-Refresh.
Support: You can contact us via our Contact Us form on our website. This project is virus and spy-ware free. We do NOT guarantee results or support this project is currently Freeware and you are allowed to use it and change the configuration only and, NOT any other source code or redistribute it. Please refer to our website for updates and information about this project.